LAND OF CONFUSION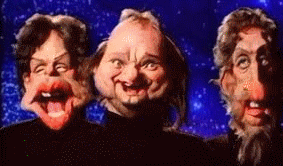 Is there anything more delightful than a market that obstructs, perverts and distorts the view of participants to the point of complete befuddlement for every asset class at the expense of professional returns? In case you had to think about the answer here....it is a resounding NO. Markets that choose to take the path of most confusion are always the most profitable as that is where the opportunities for outstanding returns are born. Since a majority of market participants both professional and casual tend to rely on confirmation bias reinforced through consensus analysis, anything deviating from an A+B=C path tends to rile the uninitiated pseudo-intellectuals who tend to dominate this business. In other words, they cannot function properly from a cerebral standpoint when confronted with dynamic scenarios.
It is only natural then that a vast majority of hedge fund managers are underperforming the markets this year, last year and all the years in between and out between. This has been the most dynamic environment for investment thesis of anytime in recent memory. The markets were supposed to crash a hundred times between now and the 2009 bottom. We were supposed to be driving a horse and buggy around this time, while relying on song and folklore as entertainment for our families after a supper consisting of freshly slaughtered moose and homegrown potatoes.
Everybody got it wrong. Not just the bears, such as Dr. Doom and Nouriel Roubini, characters that are the financial markets version of Mickey Mouse and Donald Duck, respectively. But the bulls got it wrong, as well. They simply didn't stick around long enough to truly enjoy the fruits of this bull market. How many fund managers were bullish in 2009 and have managed to keep up with their benchmark from that moment? That number is less than 5%, I would guess. Most likely, much less.
Here we are again at a point in time when consensus thinking is being challenged from both sides. Neither the bullish camp or the bearish camp have much clue as to what path to take from here. The confusion is, again, what will create the opportunity.
What we have here and now is as follows:
- A seemingly reactionary rally in the markets as they hit key support levels. Reactionary rallies are subject to retracement a majority of the time.
- A perfectly symmetrical test of support on the S&P, Nasdaq Composite and SOX. It is rare to see such a symmetrical, perfect test of support, followed by the bounce we have seen this week. I have said in the past when a market is symmetrical in its behavior it is a sign of health. The fact that this is being confirmed across three major averages is hugely important...and bullish.
- This leads to a likely retest of the lows that has a great chance of succeeding.
On a somber note, I have been riding TZA up and down like I'm a star in the TV show Bonanza. Not sure where the ride will end, but the play is to remain hedged for the time being.
I will have updates on all current holdings during the monthly summary due out on Sunday.