While there is continuing reason to believe that the foundation remains in place for further upside to this bull market, cracks are beginning to emerge in the underlying technical foundation. Earlier in the week I highlighted the primary Trumps trades being in the beginning stages of unwinding. Now there are very obvious signs that primary leadership for the market, at the very least, needs a prolonged period of rest.
Below is the chart for the SOX (Semiconductor Index), which has been a bastion of absolute strength and leadership for the entirety of the ascent from the February 2016 lows. The trajectory off those lows, for the first time, has been compromised on a weekly basis.
click chart to enlarge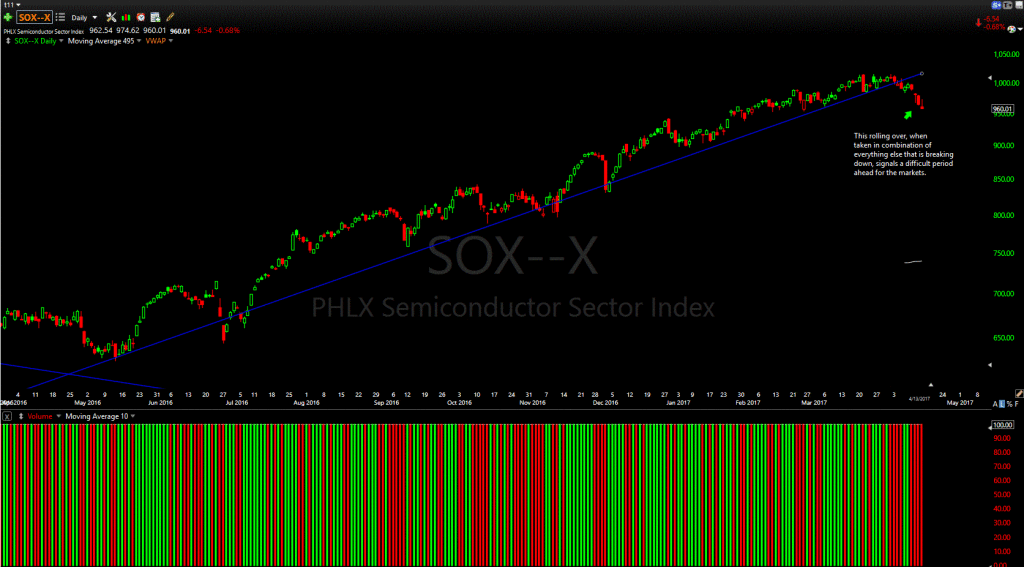 When you look at the current market, it's becoming obvious that investors are having a difficult time rectifying increased exposure with a near non-stop  symphony of scary headlines. Whether increasing geopolitical risk on virtually all fronts or increased domestic fiscal policy risk, the reasons to sell are numerous, while the reasons to buy are scant. That very dynamic, however, could end up being the bulls best hope. Fear remains too high for any substantial pullback, UNLESS a geopolitical event or overwhelming signals of an economic slowdown interfere with the sentiment dynamic. That sentiment dynamic is best illustrated by the long-term moving averages of the combined put/call, which are telling a story of absolute disbelief in a market at record highs.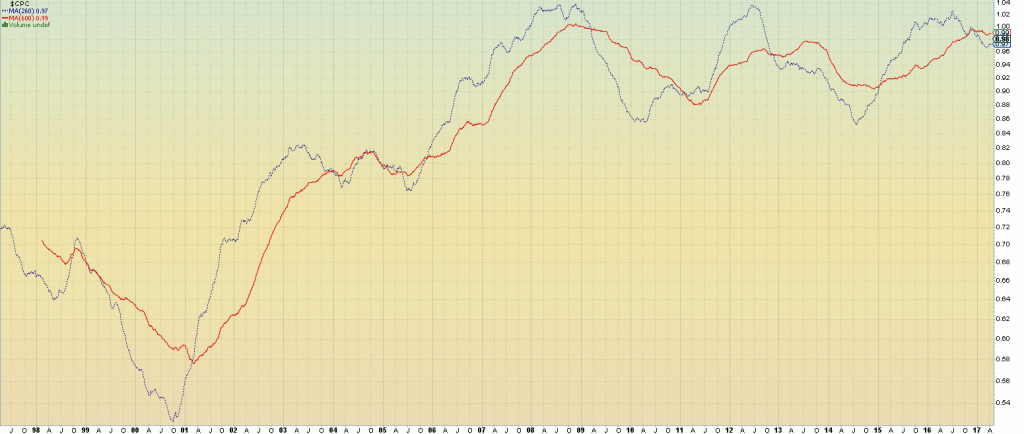 Whether further upside awaits or a breakdown is imminent, the markets are no longer on the solid ground that allowed for studies like this to emerge in Q4 of last year.
It's a coin flip going forward.
Disclaimer
This website is for informational purposes only and does not constitute a complete description of our investment advisory services. No information contained on this website constitutes investment advice.
This website should not be considered a solicitation, offer or recommendation for the purchase or sale of any securities or other financial products and services discussed herein. Viewers of this website will not be considered clients of T11 Capital Management LLC just by virtue of access to this website.
T11 Capital Management LLC only conducts business in jurisdictions where licensed, registered, or where an applicable registration exemption or exclusion exists. Information contained herein is not intended for persons in any jurisdiction where such distribution or use would be contrary to the laws or regulations of that jurisdiction, or which would subject T11 Capital Management LLC to any unintended registration requirements. Visitors to this site should not construe any discussion or information contained herein as personalized advice from T11 Capital Management LLC. Visitors should discuss the personal applicability of the specific products, services, strategies, or issues posted herein with a professional advisor of his or her choosing.
Information throughout this site, whether stock quotes, charts, articles, or any other statement or statements regarding capital markets or other financial information, is obtained from sources which we, and our suppliers believe reliable, but we do not warrant or guarantee the timeliness or accuracy of this information. Neither our information providers nor we shall be liable for any errors or inaccuracies, regardless of cause, or the lack of timeliness of, or for any delay or interruption in, the transmission thereof to the user. With respect to information regarding financial performance, nothing on this website should be interpreted as a statement or implication that past results are an indication of future performance.